ADCHEM 2018 JULY 25-27, 2018, SHENYANG, CHINA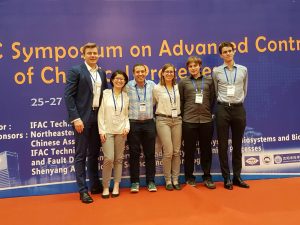 ESRs of the PRONTO project attended 10th IFAC Symposium on Advanced Control of Chemical Processes. They presented various results from PRONTO ranging from Online Alarm Flood Classification to Model Predictive Control. The Conference hosted more than 200 participants in the following topics: Model-based Control, Modelling and Identification, Scheduling and Optimization, Big Data Analytics and Monitoring, Batch Processes, Process Applications, Energy Processes and Control. During the conference the participants had the chance to visit the State Key Laboratory of Synthetical Automation for Process Industries at the Northeastern University.
The ESRs presented the following works:
Galan, A., de Prada, C.,  Sarabia, D., Gutierrez, G., González, R., Sola, M., Validation of a hydrogen network RTO application for decision support of refinery operators, ADCHEM 2018.
Schulze Spüntrup, F., Imsland, L., Asset fleet management in the process industry – a conceptual model, ADCHEM 2018.
Gutierrez, G., Galan, A., Sarabia, D., de Prada, C., Two-stage stochastic optimization of a hydrogen network, ADCHEM 2018.
Lucke, M., Chioua, M., Grimholt, C., Hollender, M., Thornhill, N., Online alarm flood classification using alarm coactivations, ADCHEM 2018.
Stief, A., Tan, R., Cao, Y., Ottewill, J. R., Analytics of heterogeneous process data: Multiphase flow facility case study, ADCHEM 2018.
Bradford, E., Imsland, L., Economic stochastic model predictive control using the unscented Kalman filter, ADCHEM 2018. (IFAC Young Author Award finalist)
The website of the conference can be found at http://www.adchem2018.org/