ESRs at PSE2018
PSE 2018 July 1-5, 2018, San Diego, California, USA
ESRs of the PRONTO project attended the International Symposium on Process Systems Engineering San Diego, California, USA. They presented various results from PRONTO ranging from Demand Side Management to model predictive control.
The following talks were given:
Borghesan, F., Thornhill, N.F., Chioua, M., Forecast of persistent disturbances in process systems using a k-nearest neighbor and a weighted k-nearest neighbor method, PSE 2018.
Leo, E., Engell, S., Multi-stage integrated electricity procurement and production scheduling, PSE 2018
Dalle Ave, G., Harjunkoski, I., Engell, S., Industrial demand side management formulation for simultaneous electricity load commitment and future load prediction, PSE 2018
Bradford, E., Imsland, L., Economic model predictive control of batch processes using parameterized control policies, PSE 2018
The website of The conference can be found on https://pse2018.org/
---
ESRs at ESCAPE2018
ESCAPE28, June 10th to 13th, 2018, Graz, Austria
ESRs of the PRONTO project attended the 28th European Symposium on Computer Aided Process Engineering in Graz, Austria. They presented interesting results on optimal batch scheduling, Demand side Management and degradation modelling.
The following talks were given:
A heuristic neighborhood search-based approach for the solution of resource-task network scheduling problems, Giancarlo Dalle Ave, Xing Wang, Iiro Harjunkoski, Sebastian Engell
A two-stage stochastic programming approach to integrated day-ahead electricity commitment and production scheduling, Egidio Leo, Sebastian Engell
Wu, O., Bouaswaig, A.E.F., Schneider, S.M., Leira, F.M., Imsland, L., and Roth, M., 2018, Data-driven degradation model for batch processes: a case study on heat exchanger fouling, European Symposium on Computer-Aided Process Engineering 2018 (ESCAPE-28).
The website of the conference and the book of abstracts can be found on https://www.tugraz.at/events/escape28/ .
---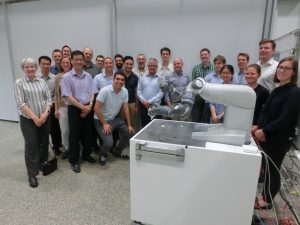 Network meeting in Ladenburg
Host Institution: ABB Ladenburg, Germany
Date: 26th-28th June 2017
This three-days meeting took place in Ladenburg, Germany at ABB Corporate Research Center. The first day of the meeting the ESRs attended a course about Intellectual property rights, protection and management given by the Intellectual Property Department of ABB Corporate Research Center.
The second day of the meeting consisted of a session of presentations delivered by the ESRs on project progress. The session was followed by a project network meeting which included discussion on the project progress, solutions to various challenges as well as future actions.
The third day the participants visited the BASF Ludwigshafen production site where they had an excellent opportunity to see how some solutions developed within previous projects are successfully running in the real production environment.
More information about the BASF Ludwigshafen production can be found here.
---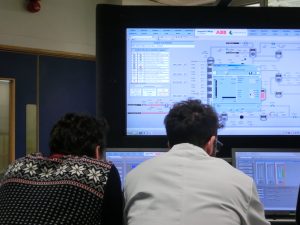 Second Network meeting
Host Institution: Imperial college london
Date: 20-22nd December 2016
During the network meeting, the ChemEng Discovery Space allowed the ESRs within PRONTO to benefit from an unparalleled hands-on educational experience, with the four-storey high state-of-the-art carbon capture pilot plant representing a scaled-down chemical engineering plant- situated in the very heart of London. The centrepiece of the facility is the show-stopping ABB control room, accompanied by the installation of several brand new laboratories kitted out with the latest chemical engineering teaching equipment.
More information about the plant can be found here.